Environmental Markets Week

• 28-29 September 2023, London | • 26-27 October 2023, Houston | • 24-25 January 2024, Singapore
A truly unique and differentiated platform for learning, networking and benchmarking through our 5 core focuses.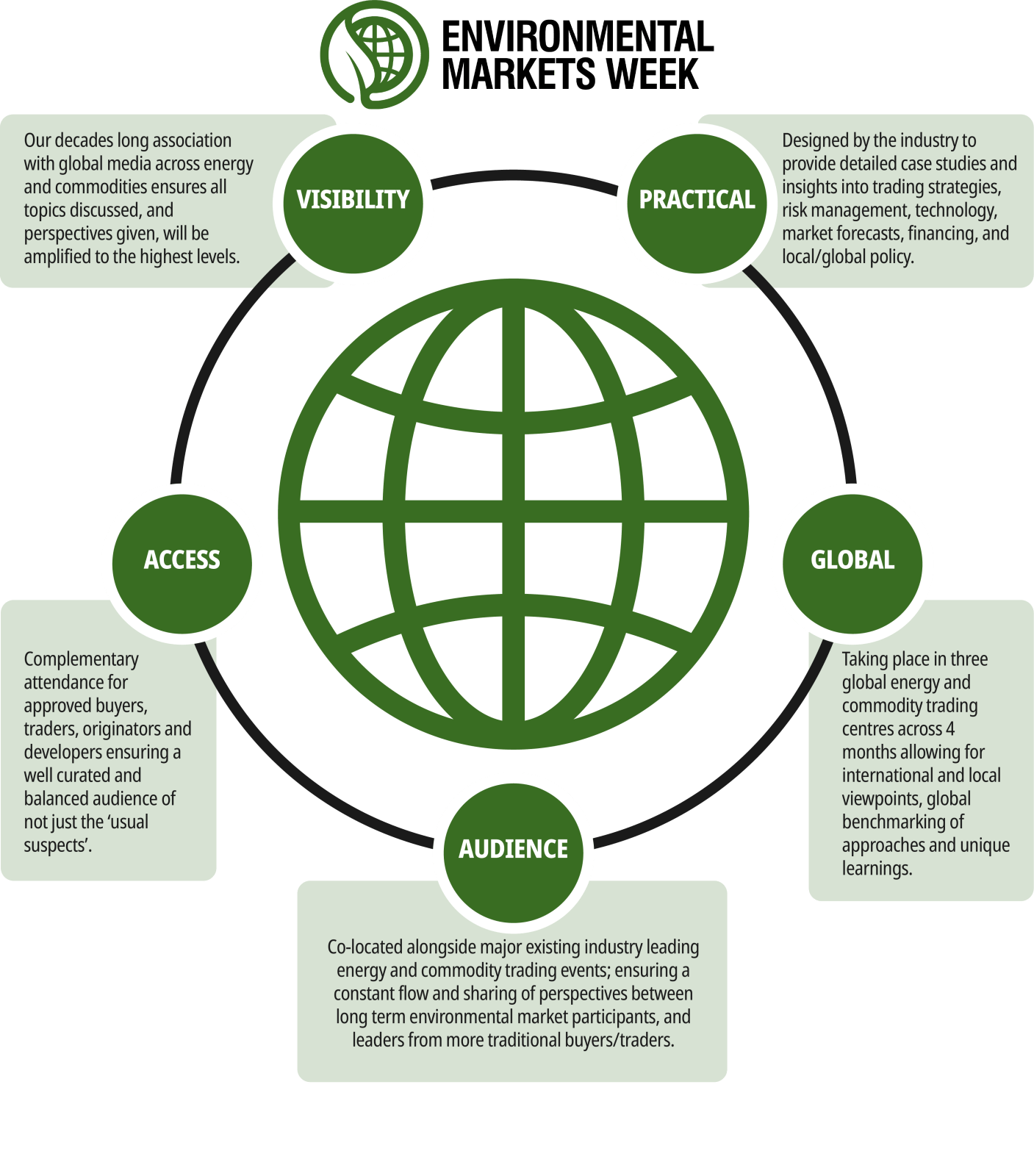 28-29 September 2023
Novotel London West
LONDON



About
EMW Europe will bring together the European and global environmental markets ecosystem. Policy makers, project developers, emitters, trading firms, market makers, exchanges and innovative solution providers will be discussing the ins and outs of engaging in these new and developing markets so that your trading function can seize every opportunity in that space, while mitigating the risks.

Co-located with Energy Trading Week (ETW) Europe


Key Topics
• Macro trends in environmental markets
• Market outlook for renewables, carbon, biodiversity markets
• Policy: EU ETS vs UK ETS
• Convergence of voluntary and compliance markets
• Quality of carbon credit
• Carbon pricing
• Standardisation across environmental markets
• Innovation in carbon tracing, reporting, capture
… and much more


26-27 October 2023
JW Marriott Galleria
HOUSTON



About
EMW Americas tackles the real-world issues around the rapidly expanding carbon markets. This must-attend event brings together energy and carbon trading leaders, policy experts, economic and legal advisors and regulatory officials to discuss the real-world implication of environmental policy for energy and commodity trading companies. This one-of-a-kind event will give you the information you need to thrive in this rapidly changing trading landscape.

Co-located with Energy Trading Week (ETW) Americas


Key Topics
• Evolution of compliance and voluntary carbon markets
• Status of the RFS and LCFS based markets
• Carbon tracking and accounting
• Regulatory initiatives
• Integrating carbon trading into your existing portfolio
• Biodiversity markets
… and much more

24-25 January, 2024
SINGAPORE



About
EMW APAC assembles regional regulators and industry trendsetters across APAC environmental markets supply chain. Gathered business leaders will explore environmental products, trading mechanisms and climate strategies in relation to country-specific net-zero regulations and will focus on the future of regional voluntary & compliance markets, emerging carbon offset projects and case studies as well as associated risks & opportunities. Participants will include carbon credits traders across sectors, policy makers; project developers, exchanges, brokers, MRV solutions, consultancies and innovative technology providers.

Co-located with Commodity Trading Week (CTW) APAC


Key Topics
• Upcoming regulations in emissions reductions across APAC
• Carbon markets policies in APAC
• Global and regional outlook for carbon, biodiversity markets
• Analysing carbon tax and cap-and-trade system
• Trading strategies and challenges in pricing, costs
• Trading platforms – pros and cons
• Carbon pricing and risk management
• Carbon offset projects in developing countries
• Technologies that improve transparency, traceability and verifiability
• Improving carbon credit quality
• Toward standardisation in MVP
• Carbon accounting & monitoring best practices
• Carbon capturing, sequestration and removal technology development and grants
… and much more

Environmental Markets Online
16-17 May 2023
Throughout the year we run a busy schedule of webinars and online events across environmental markets and sustainability themes.
Global Environmental Markets Report 2023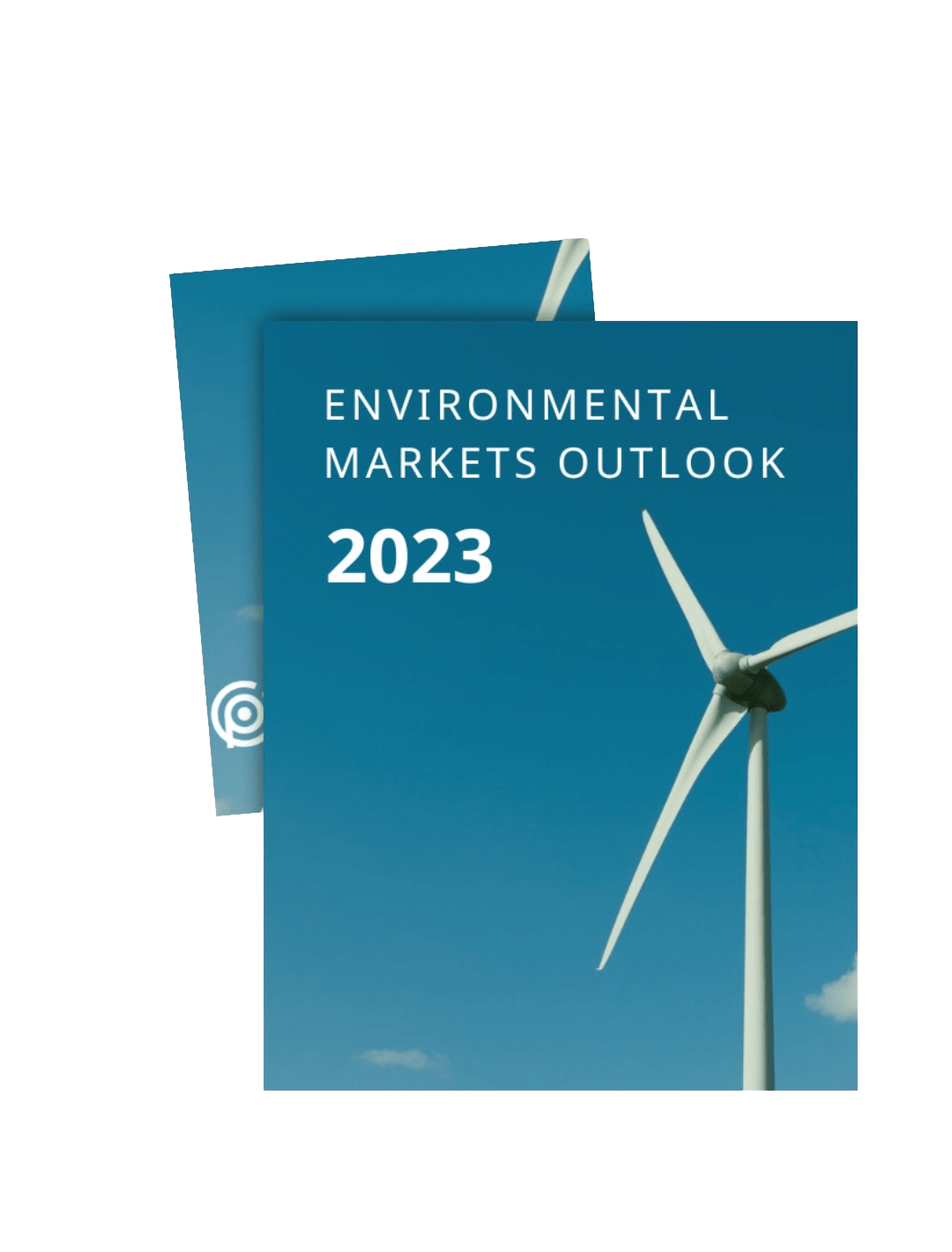 Commodities People is pleased to present our Environmental Markets Outlook for 2023. This report will be released live at EMW Europe in September and will provide an overview of the global and local markets, risk management optimisation, technology deployment, market forecasts and regulatory policy.
This will be one of the most widely distributed content marketing pieces in the industry - distributed to the Commodities People network of more than 200,000 relevant industry professionals, as well as being prominently featured on our high-traffic content hubs. It is being developed in association with industry and will include high-profile opportunities for partners to showcase their brand and subject matter expertise through interviews, position articles and advertising.
Should you wish to contribute to the report:

ENVIRONMENTAL MARKETS WEEK

REGISTER YOUR PLACE